The security is at the heart of our main focus
With the order of 14 new trailers integrating automatic brake system next to the dock, we provide our customers and our mobile staff an increased security.
Our trailers are equipped with Automatic Electronic Locking systems of the doors via telematics, sensors for the opening and closing of the doors, sensors for coupling and uncoupling and anti-theft alarm systems.
Eco-driving
Ecology has become an important challenge and a major responsibility. That's why our drivers are trained and apply the eco-driving techniques. Thanks to a virtual coach on board, drivers improve continuously their way to drive via a scoring system.
A permanent communication with the drivers
Our systems of communication on board allow us to stay non-stop in touch with our drivers and with your goods.
A traffic optimised routing
Thanks to the truck navigation system on board, our drivers can know the best way to follow : to avoid unexpected events and to use the detour roads, it is a required technology !
Respect of the social regulation
In order to respect the driving time but also legal and contractual obligations, our systems on board help us and assist us. If the Law is about to be not respected, the On board unit is equipped with an alarm which informs the driver that it is time to stop: this system allows to anticipate and to find the best place in order to take a break.
High-quality traceability
Our GPS systems allow our customers to have a total traceability of the goods. Very precise, the geolocation is done in real time. For the high-value products, it is a strong asset.
Our vehicles are tracked by satellite: we have instantly an overall view of our material. Very important and useful to maximize our services and respect the deadlines, this technology gives and ensures a complete reliability; this reliability of services makes our reputation for more than 15 years.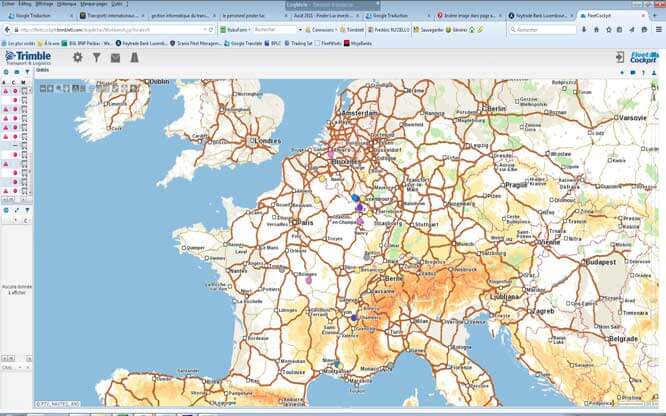 The temperature recorders
The follow-up and the temperature monitoring of the trailers are carefully realised. Thanks to remote alert, we guarantee the respect of your products during all the transit.
A powerful TMS: ITEM software
Equipped with a powerful TMS, we improves the quality of our services. With this software we can manage and facilitate each operation of transport; from the order to the invoice. This tool is continuously being upgraded in response to our requirements and current software technology.
Our technology equipment: new and high performant
To effectively meet your specific needs, to support our drivers and to delivery your goods with a total precision, Pinzler Lux continually invests. The staff uses a high performant and new equipment and thus improves the performance of missions.